CGE1400 Accessories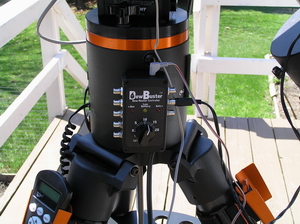 I think the most important for an SCT is a dew shield (I bought a flexible one) and dew heaters. US Northeast is especially bad in this reagrd, and without a good dew shield and dew heaters observing (or imaging) session would be very short. For my C9.25 I bought Thousand Oaks's digital dew heater controller with a heat strap for the scope and other straps for eyepieces - the controller has four slots. CGE1400 requires dew heater even more - so I have added a heated dew shield, but I still use a dew heater strap on the OTA. The strap should be placed on the outside of OTA before the corrector plate in order to work properly. I have upgraded Thousand Oak's controller to a DewBuster controller - it regulates the heating based on current air and OTA temperatures - releasing just enough heat to keep corrector slightly above dew temperature. Works very well and I don't have dew problems anymore. It is also necessary to heat piggybacked refractor if it is being used for guiding or observing.
Another useful gadget for an SCT is a set of Bob's Knobs - they are a set of screws with a large top knobs that simplify collimating. It is not necessary to use a hex wrench - which is good, but the accuracy of the knobs is not that good as with the wrench. Be careful when changing factory screws to Bob's Knobs and follow the instructions - if all the screws are removed the secondary mirror will fall off!
If the scope is used visually a high quality 2" (dielectric) diagonal is a very good investment.
If you plan to use CGE1400 on the tripod for visual observing an accessory tray from Starizona is very helpful. Strangely, CGE is shipped without one ...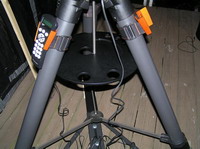 Some type of electrical focuser is very useful for visual use (more accurate, no vibrations) and a must for imaging. I use JMI Motofocus for C14 and it helps a lot. It has two speeds for focusing, and uses standard 9V battery located in the controller box. Controller box connects to the motor with a standard stereo plug, so it is possible to buy an extension cord in Radio Shack and use it from a distance. Thanks to a 15' extension I can focus the scope while controlling g imaging equipment from my observatory warm room. For imaging a useful addition is an electrical focuser attached to the imaging train, it is more accurate and does not cause image shift. The approximate focusing can still be done with JMI, while the final accurate one with the other one. I chose Optec TCF-S temperature compensating focuser for that purpose, it can accounts for a position of the focuser (see display on the controller) and can be trained to compensate for temperature-related focus change.
In order to piggyback a small refractor on the top of C14 OTA one needs a set of rings and dovetail that can be attached to C14. I bought a set from Ken Millburn and turned to be a good choice. It is quite rigid and suitable for imaging.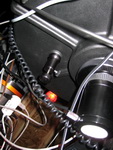 Mirror flop may be a problem for long focal length imaging. My C14 was always quite good at this and I didn't have problems when imaging up to f7 with subexposures below 5 minutes. However, when i started narrowband imaging and also tried to expand to f8.8 and above I tried to eliminate all possible problems. The cure for mirror flop is mirror lock, and it is relatively easy to adopt withC14. Ironwood Observatory sells a set of screws with long shafts that replaces C14 mirror locking screw set used for transporting the OTA, they call it flop stoppers. On the back of OTA I installed provided locking collars - see picture on the left. I release set screws (side) for focusing, and tighten them when the focus is set. I noticed a bit larger image shift during focusing, but once set the flop is eliminated and focus is much more stable.